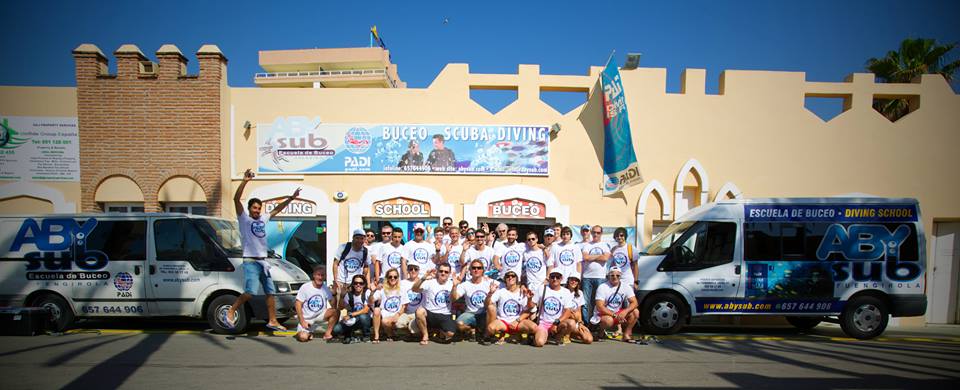 We are a diving school that we give our best, so you live your life experience of many years. For us you are the most important, and that is why our philosophy remains the same from the beginning; that is your personal satisfaction, your safety when I formed, and most of all thank you for choosing us.

[su_spoiler title="Adrian" icon="caret-square"]
"To understand and respect the marine ecosystem is everyone´s job, though you cannot defend something you do not love and you cannot love something you do not know".
The managaer and instructor of our Diving School is Adrián Bilous.
He is an aquatic activity professional who will show you the best way of learning to dive in a funny and safe environment.
He also supports the AWARE project and gained 2 certificates of recognition.
PADI INSTRUCTOR:
Open Water Scuba Instructor
Master Scuba Diver Trainer
IDC Staff
Medic First Aid Instructor
ESPECIALIST INSTRUCTOR:
Navigation
Search & Recovery
Deep Diver
Enriched Air Diver
Wreck Diver
Digital U/W Photography
Equipment specialist
Dry Suit Diver
[/su_spoiler]

[su_spoiler title="Alejandro" icon="caret-square"]
PADI INSTRUCTOR:
Open Water Scuba Instructor 2009
Master Scuba Diver Trainer 2013
EFR First Aid Monitor DEA
Aquatic Rescuer Professional International Red Cross
Monitor and Swimming Coach
ESPECIALIST INSTRUCTOR:
Deep
Navigation
Wreck
Multilevel
Night
[/su_spoiler]

[su_spoiler title="Jorge" icon="caret-square"]
PADI INSTRUCTOR:
PADI Divemaster 2012
CMAS diving instructor
Recreational Diving Instructor PDIC
ESPECIALIST INSTRUCTOR:
Deep Diver
Orientation
Night dive
[/su_spoiler]

[su_spoiler title="Ivan" icon="caret-square"]
PADI INSTRUCTOR:
Divemaster PADI 2012
Assistant Instructor Padi 2013
Open Water Scuba Instructor Padi 2013
EFR DEA instructor
Oxigen Provider instructor
[/su_spoiler]

[su_spoiler title="David" icon="caret-square"]
PADI INSTRUCTOR:
PADI Divemaster
With certificates specialties:
Orientation
Deep Diver
Maintenance of equipment
Search and Rescue
Emergency first aid and CPR's.
Underwater Digital Photography
Discover Scuba Diver Leader
[/su_spoiler]

[su_spoiler title="Hugo" icon="caret-square"]
ESPECIALIST INSTRUCTOR:
Master Scuba Diver SSI 2007
PADI Divemaster 2012
Specialist Scuba Diving
Deep
Guidance Sub
Filming sub
Night
Group Guide
Discover leader diver
[/su_spoiler]