Discover Scuba Diving
Do you want to experience something diferent and new? Then we have exactly what you are looking for. Why not try to breath under water? Come and dive with us today and you will discover a new world under direct supervicion of a PADI instructor.
This is the first real step into scuba diving. You will firstly be introduced to the world of scuba diving with a brief lecture. Then already you are off to the sea or the swimming pool with your professional instructor for a session of one hour during which you will have fun practicing all the great new skills you have just learned.
All you need to do now is to book your first scuba dive experience!
Duration: 1 day  
Price Full: 70 €     
---
Open Water Diver
During the Open Water Course you will learn all the techniques needed to move your body and equipment safely underwater. After completing the course sucessfully you will be ready to dive  without the direct supervision of your instructor. You can dive without the need of any professional guidance. Find a buddy and the sea is yours!
Anyone who is in good health, reasonably fit, and comfortable in the water can earn a PADI Open Water Diver certification.
5 Theorical lessons / 5 Practical lessons in pool / 4 Open Water dives
If you book now, all the material will be sent for independent study !!
Duration: 4-6 days 
Price Full: 390 € 
---
Scuba Diver
If you have limited time on your holiday then the Scuba Diver course is for you.
The PADI Scuba Diver program is a pre-entry level certification that is perfect for vacationers or people who only plan to dive a couple of times a year.
Your certification is internationally recognized and lasts for a lifetime.
3 Theory classes /3 Practical Classes / 2 Inmersiones
Duration: 3- days 
Price Full: 320 € 
---
 Advance Open Water Diver
Are you looking for a new dive experience? Then PADI's Advanced Open Water Diver program is what you are looking for. During this course you will be able to refine your diving skills and to explore new diving adventures, like deep and night diving. The Advanced Open Water Diver program simply has something  for anyone.
It is your time to dive-go for it!
If you book now, all the material will be sent for independent study !!
Dives: 5

Duration: 2 days

Price Full: 290 € 
Nitrox (enriched air)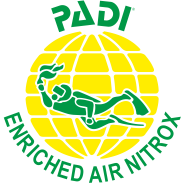 Experience the benefits of Nitrox and an introduction into the world of cutting edge technical diving. This is the next step up from recreational diving. Packed with information it is aimed at the recreational diver wishing to enhance and hone their diving skills.
The profesional gas is used now for the recreational diver. You will learn how to use this mix with total security.
2 Theory classes / 2 Practical Classes / 2 dives
Duration: 2 days
Price Full: 180 €
---
 Rescue Diver
The Rescue diver course will teach you to evaluate, take control, and take action when it is needed. The first step to professionalism, or just a course that will make your buddies feel safe when they dive with you? The decision is yours.
The rescue techniques are important in order to help yourself and other divers in the case of emergency. Every diver should know what to do in an emergency and therefore this course is interesting and helpful for everyone.
PADI Rescue Diver program develops your knowledge and skills so you can effectively perform diving assistence and rescue, manage diving accidents and carry out  first aid. The program is an important step towards expanding your knowledge and experience as a diver. PADI Rescue Diver (or equivalent) certification is also a prerequisite for all PADI leadership programs.
Duration: 4-6 days
Price Full: 400 € 
---
 Diver Master
Become a PADI professional! Use your new skills on your holidays or as a permanent job. You will practice map making, assisting the instructors, organizing diving excursions and boat dives. You will also learn how to teach some PADI courses.
The PADI Dive master program is your entry into leadership level in the PADI System of diver education.
As a PADI Divemaster you will be able to:
1. Act as a certified instructional assistant to PADI Instructors.
2. Supervise participants in PADI experience programs for uncertified divers.
3. Generally supervise both training and non-training related diving activities by planning, organising and directing dives.
4. Teach and certify PADI Skin Divers
5. Conduct the PADI Scuba Review program for certified divers.
6. Enroll in PADI Instructor level training.
Duration: 15 days
Price Full: 600€ 
---
 Oxigen Provider
This course provides the necessary knowledge for the diver it acts immediately before a diving accident, and essential oxygen administration in the initial and other medical treatments prior to now. copy translation The planning dives along with the knowledge acquired by diving professionals and practitioners in the field of first aid, will be the most powerful and effective tool to act immediately to serious accidents such as arterial gas embolism or disease decompression.
Objectives:
To provide knowledge of the initial and quick in diving accidents those responsible for dive clubs, trainers, professionals and practitioners in sport diving performance.
Learning to identify quickly diving accidents both conscious and unconscious  and treat immediately by administration of normobaric oxygen.
Knowing the different ways to administer normobaric oxygen and handle the various management teams oxygen. Contents: anatomical and physiological cardiorespiratory remember. Respiratory dynamics. Heart pump. Hemodynamic stability. Indications in the Shock administration of oxygen. Contraindications to the administration of oxygen. Specific pathology waterways. Accident pulmonary overpressure. Decompression illness. Drowning. Stress, panic. Poisoning gases. Recommendations of the European Council Ressuscitation for Basic Life Support
Price Full: 100€ 
---
 
Emergency First Aid Response
Emergency First Response is an innovative CPR/first aid programe. Primary Care (CPR) prepares you to render aid to those with life-threatening emergencies.
Secondary Care (first aid) builds upon the lessons of Primary Care and helps you assist those in need when Emergency Medical Services are either delayed or unavailable. Spend 8 hours of your life that will enable you to help to save someone else's life or even your own! You don't have to be a diver to enrol on to this course.
Duration: - 8 hours
Price Full: 120 € 
---
 Specialty Courses
PADI Specialty courses offer you the opportunity to increase your knowledge and experience in specific areas of diving. With courses ranging from Underwater Naturalist to Wreck Diving, a specialty course can open your eyes to aspects of diving you never dreamed of.
We can offer specialty licenses covering a broad range of subjects taught by instructors who have proven their expertise in each area. The following specialties are available to anyone with the Open Water Diver rating or above.
Specialty courses:
Deep Diver, Night Diver, Peak Performance Buoyancy, Wreck Diver, Underwater Navigator, Underwater Naturalist, Fish Identification, Search and Recover.
Duration: 2-3  dives
Price Full: 180 €